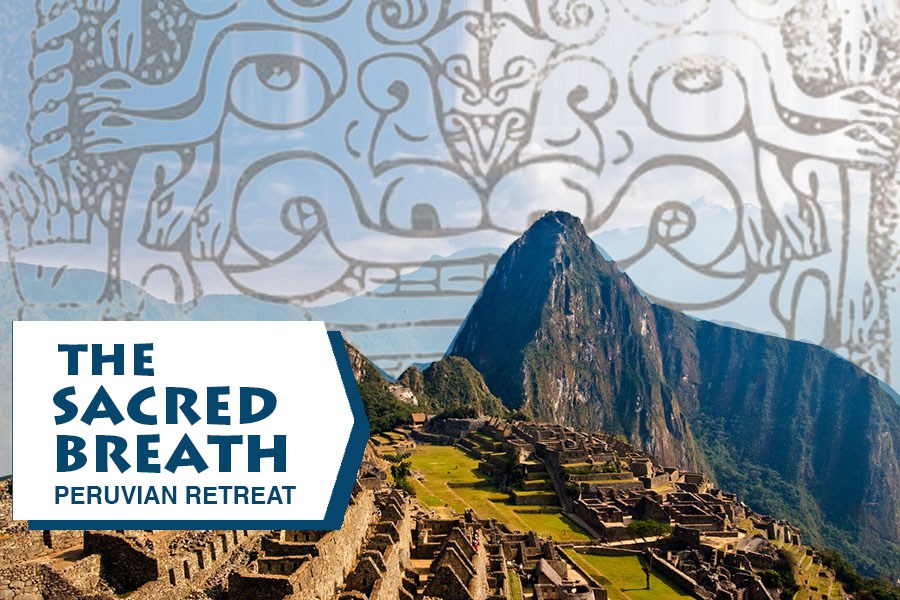 Come to the enchanting sacred valley of Peru for relaxation, community and renewal in one of the most beautiful and sacred spaces on earth!
Sacred Valley – Peru
$1895 Shared Accommodations (Save $100 off full price of $1995 until Sept 1st)
$2195 Single Accommodations (Limited Spaces)
Journey to Peru for a week of yoga and volunteerism at a Sacred Valley Retreat Center famous for their gardens and accommodations coupled with Gretchen Serinis and Alana Roach's yoga instruction. An additional option for an extended experience of a 4 day overnight experience of hiking Machu Picchu.
The Andean mountains contain some of the world's purest energy for you to experience at this world famous Retreat Centre.
You will embark on a yoga experience of a lifetime which is enhanced with breathing and meditation technique with a volunteer options within the community.  We will be working with one of the centers profound programs that help the local communities: Children's Nutrition, Permaculture, School Construction, River Clean Up or Native Tree Planting. You will experience the greatest source of happiness which comes from extending ourselves to others through this opportunity.
The week will be spent practicing yoga, volunteering and experiencing the beauty of the Sacred Valley all essential elements to heightening your yogi spirit and elevating yourself as a yogi citizen of the world.
Retreat Includes:
7 Nights Accommodations at Beautiful Retreat Center in Peru
3 Whole Foods Meals a Day
Round-Trip Group Ground Transport to/from the Airport
Two daily yoga sessions
Lots of time to rest and explore Sacred Valley
 Optional Tour of Machu Picchu October 22
Day 1: Retreat Center to Ollantaytambo- Aguas Calientes.
After breakfast there will be a transfer to Ollantaytambo to visit the temple of the Condor, we will concentrate on working with the energy of the Condor.  We will walk into the village of Ollantaytambo looking the water channels, then you will have time for lunch. Afternoon to go the hotel and check in at the Pakaritampu Hotel in Ollantaytambo.  
Day 02: Ollantaytambo – Machu Picchu – Ollantaytambo.
Early morning after breakfast, we will transfer to the train station in Ollantaytambo, check in at the entrance and travel by train to Aguas Calientes. At your arrival, we will transfer to the Bus station. We will put an offering to the mountains surrounding Machu Picchu, then ask permission to enter the energy points and we will visit all Machu Picchu citadel . Afternoon  come back to Aguas Calientes, then return by train to Ollantaytambo, from there you will have private transfer to your hotel in Cusco.
Included: Private transportation to Cusco,, tour guide  hotel in Ollantaytambo, train to Machu Picchu,  entrance fees to Machu Picchu, round trip bus ticket to Machu Picchu, train tickets to Aguas Calientes – Ollantaytambo + Private transfer to hotel in Cusco.
Not Included: Tourist ticket (BOLETO TURISTICO ), Tips & Personal expenses, Meals and water
Optional: Entrance to Huayna Picchu (additional USD 20 Dollars per person)
Cost of optional tour package to Machu Picchu:  $385.00 per person.
* There may also be an option for a 3 night/4 day to Machu Picchu.  If you are interested in a longer tour, please indicate on your registration and if you sign up for the 1 night tour, we can transfer this to the longer tour if enough people commit.
Instructors
Caileigh Feldman
Caileigh is a Nutritional Wellness Coach and Yoga Teacher who is passionate about healing, meditation, pranayama, Ayurveda, herbs, cooking and travel. She is an award-winning filmmaker and honors graduate of Haverford
 College, where she studied Anthropology and Documentary Filmmaking. She loves being active and moving her body–through yoga, kickboxing, rock climbing, running, cycling and mountaineering–as a way to connect with nature and travel the world. Her love of the outdoors has led her to climb mountains all over the U.S. and South Africa. Caileigh's mission to help others heal stems from her own experience with healing herself from an autoimmune disease through nutrition, mindfulness and yoga. She is an established instructor in plant-based vegetarian and vegan cooking, supporting youth and adults in Philadelphia and New York City for the past five years. Most importantly, Caileigh is dedicated to helping people get in touch with their bodies, minds and souls to live the healthiest, fullest and most vibrant life possible. Caileigh cannot wait to support you on your journey to this incredible country!
Alana Roach
Alana's love for yoga came from firsthand experience with just how powerful the practice is. "In 2009, Yoga found me. Inside the studio, she experienced a deep sense of belonging, but the most profound part was what happened after. "I felt as though I was at true peace. I finally knew what the word meant. Until that moment, I had just understood it cerebrally. There is something profound to be said about Peace dropping into the heart." With a background in ballet starting at the age of 2 that continued through age 15, Alana realized that She had been doing yoga even then. "The girls in the dance studio and I used to see who could hold full lotus the longest when I was just 4. I realize now that I have been training to practice and teach yoga my whole life"
In 2012, her journey took her to India for 3 months where she trained with incredible locals near the Himalayas and fell into a rhythm of practice that felt sustaining. She knew that when She returned from the East, she would begin in creating a life as a teacher of Yoga to help others journey to find whole health and well-being in the mind, body, and soul. She has been teaching ever since. CYT and E-RYT certified in Vinyasa with a focus in Ashtanga Yoga and her personal studies of many holistic modalities including integrative breathwork, pranayama, plant based nutrition, and various yoga theory and practicum ranging from restorative to advanced vinyasa and everything in between, Alana teaches all levels and all ages. "I want to reach you at the level of your needs, and I try to communicate with you on a mind, body, soul level to find out what that is. We co-create a beautiful practice together. My students are my best teachers. In that light, we are co-teaching each other in every moment. It is really a beautiful experience.
Testimonials
The Explorations of Self, A Costa Rica Yoga Experience with Alana Roach for me was truly a life changing event. This being my first yoga retreat, I didn't know what to expect. I quickly realized the love and energy that surrounded everyone present and Alana re-kindled this energy everyday with her guided meditations along with the yoga sessions. Alana's love and compassion inspired me to challenge  myself in all aspects of my life. I am truly grateful to have had the opportunity to attend this event.   I am eagerly awaiting my next opportunity to attend another event with Alana. – Scott Beacom
The Explorations of Self yoga retreat led by Alana was one of the best experiences of my life.  I can truly say for me, it was life changing.  Her guidance and teaching helped me to really let go and be in the present like never before. She took the time to connect with each one of her students on a personnel level with patience, compassion, and love. She has a real gift for feeling the energy of the class and tailoring the physical practice and meditation to fit the moment. Alana has this light about her that shines very brightly, you can't help but feel a sense of ease and comfort. – Fred Dolbow
Just returned from a Yoga retreat  in Santa Teresa. Alana is the true Goddess.She is knowledgeable,thoughtful,beautiful  and passionate about her teachings and practice. Spa treatments by Maria really helped with some pain I was going thru. This was a great place for Yoga lovers,its magical. for surfers its a dream come true. Josie went beyond and above , and was always there making sure we were taken care of. What a wonderful experience. – Lynne Roye
Accommodations
The Center's name, translates as "love from the ancient forest", is nestled in an oasis of native plants and fruit trees and is nourished by a magnificent waterfall in the Sacred Valley of Peru.
This  lovely spot  is in the Andes Mountains and home of the twelve mountains known as "apus" — "luminous beings" Those who come to the center have the opportunity to commune directly with these mountains, as well as with the local curanderos and pacos (healers), who engage with us for ritual and ceremony.
The guests at this center enjoy delicious meals with locally-grown and lovingly prepared ingredients. Each guest room is a reflection of the Peruvian culture of the Sacred Valley. The entire center embodies kindness, love and wholeness that seem to permeate this magical place.
Optional Activities
The Inkan ruins at P'isaq, along with the famous P'isaq craft market
Nearby Weaving Village of Chinchero
Ccochahuasi Animal Sanctuary near Pisaq
Fascinating Sacred Valley ruins and sites at Ollantaytampu, Moray Circles and Maras Salt Farms
Hiking paths around the Rumichaka neighborhood, surrounding valleys
Strolling through the nearby town of Urubamba ($1 taxi each way), visiting its indigenous fruit and vegetable market
Touring the famous Seminario pottery studio, &/or shopping at the local Alpaca stores.
Registration
Register early as we expect this retreat to fill quickly! A $300 deposit will get your name on the big "I Want To Go To Peru" list and officially reserve your spot. It will be deducted from the total amount of the trip cost.   The trip has a minimum of 10 people and a maximum of 20 people.
To register, go to our   Online Registration Platform *.
At the checkout you will have the option to choose your payment method. The minimum payment you can make is the $300 Deposit which will "Hold Your Spot for Peru" and Lock in Your Price for your retreat. For future tuition payments please use the same Online Registration Platform.
*For Online Registration Technical Issues please call Reg Online support at 1-888-465-7500 Ext. 1. * Our on-line system does not accept checks, but if you need an alternative payment arrangements,contact us.
Cancellation
Initial deposits are non-refundable.
50% of the payments made are refundable upto 90 days before program excluding initial deposit
89 days prior to a program, tuition is non-refundable
Full tuition is refunded if the trip is canceled due to low enrollment

Frequently Asked Questions (FAQ)
We understand that many questions come up when visiting a place you have never been. What do I bring? What is the weather like?  We have created Participant Packages that will clarify these type of questions and more   Once you have registered, we will send you these materials.  In addition, on our website we have a comprehensive FAQ section, that also gives detailed answers to common questions.  If you have other questions, you can always write us at info@truenatureeducation.com so we can support you.
Getting There
You will be booking your flights to Cusco Airport in Peru (CUZ).  Most flights will go via Lima. A Group shuttle for this retreat will be provided from Cusco airport to your retreat center. We will book the shuttle to accommodate the last arriving passenger. True Nature Education has a Group Travel Agent that will be happy to help you book your flights.  Just ask us if this interests you.   Some of our retreats also have a Group Flight Option so you can travel with your fellow retreatants (minimum 10). From the airport we will organize one group transport for all retreat participants. Before booking tickets, please be sure you have received your official confirmation note that the retreat has met its minimums.  Once this has been established when booking your trip check that your flight times are in alignment with our flight arrival and departure time frames.
True Nature Education
True Nature is an Educational Travel Company which provides full service in the planning, support, and guiding of a diverse catalog of trips around the world each year. We believe in the power of experiential travel abroad and the multitude of affects it has on ones growth. We have hosted thousands of participants and have been honored to share in the life-changing experiences of our guests. It is True Nature's goal to strive to meet the needs of our guests and to be of support from the time you first contact us, to the time you land in Italy, and until you return home from your journey.