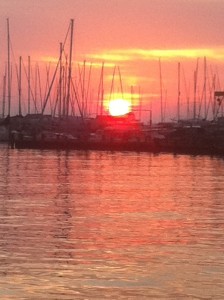 Another weekend with a lot of great yoga events! In addition to the normal free and community yoga classes, there are a number of special events and specials
yoga Rave event at Prana
Prana's outdoor fall equinox celebration
early-bird registration at Golden Heart
half-price Beginner's Yoga / Yoga I waterfront mini-retreat
Here is what's going on this weekend…  
FRIDAY
6pm-7pm Community ($6) Vinyasa Yoga (all-levels) at Evolutions
8pm-9pm Community ($6) Beginner Yoga at Charm City Yoga (Severna Park)
8pm – Yoga Rave (Prana) led by Jackie Melsopp – I was lucky enough to catch Jackie's last yoga rave earlier this  month – LOTS of fun!! Great crowd with many new faces – all enjoying an intense Vinyasa yoga flow class with great music, glowsticks, blacklights and more.
SATURDAY
SUNDAY
6:15-7:45pm Community ($6) Hot Yoga at Charm City Yoga (Severna Park)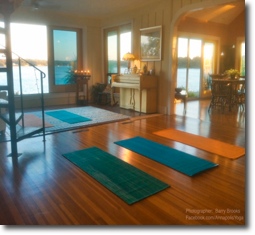 MONDAY
9:30am half-price ($10) Beginner's Yoga waterfront miniretreat with Barry Brooks – Geared towards beginners and those looking to improve their form, this Hatha yoga class / mini-retreat features a small class size and personalized instruction set in a beautiful private waterfront home yoga studio. Active gentle hands on pose assists, on request.  Registration only event: To request an invitation, e-mail barry@annapolisyoga.me
6:00pm Yoga on the South River with Aimee Seal (donation based).  Enjoy a flowing 1 hour and fifteen minute yoga class tonight with the beautiful breezes blowing as the sun sets over south river. 411 Ferry Point Road, Annapolis.
6:15pm Community Yoga with Gretchen ($10) at Shakti Studio
Specials
Golden Heart Yoga has extended Early Bird Registration until September 28. $30 discount allows you to register for the Fall – a 14 week session at only $194 (a savings of $13.87 per class that is an hour or longer) or $166 ($11.85 savings for an hour class).
Upcoming Workshops

Partner Yoga w/ Emily & Dan Gretz (Crofton Yoga), Friday, September 28
Come with a spouse, partner or friend and enjoy the benefits and fun of partner yoga! No experience necessary. $35 per couple
Pregnancy & Birth Workshop w/ Darlene Bergener (Crofton Yoga), Saturday, September 29
While pregnancy is often filled with excitement and happiness, it can also bring physical discomforts and uncertainty about the upcoming labor and delivery. This workshop provides a safe and supportive environment for the mommy-to-be and her partner to learn various tools, such as yoga postures, relaxation practices, and massage techniques, that can be helpful through all stages of pregnancy, labor, delivery, and postpartum. Natural, medicated, and C-section deliveries will be discussed. Space is Limited. $50 per couple
More info on the above events at AnnapolisYogaCalendar.com
New: Receive this weekly update via e-mail by sending a message to updates@annapolisyoga.me