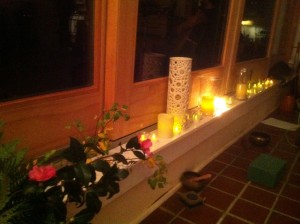 Last night, I went to my first Yoga Ecstatic event.  Quite frankly, I wasn't really sure what to expect, but a Yoga instructor friend told me if I ever had the chance to attend one I should (and now I know why). I had blogged about it earlier in the week (and was happily surprised to meet a few Annapolis Yoga readers and Meetup members there), but still wasn't quite sure what to expect.  I guess I was expecting a 75 minute Yoga class followed by live music, food and drinks.  A 'Yoga party' if you will.
What I didn't realize is that the Yoga practice was a party in itself.  The yoga was led by Lara Bontempo, with Joan Livingston, RYT 500 Yoga instructor and Level II Reiki practitioner and Aimee Seal, RYT 500 Yoga instructor and host of this incredible event.
Lara has this amazing energy and ability to create excitement and from the minute she started the practice, made this event feel like none that I've been to before.  The practice itself was just plain outright fun!  Within the first fifteen minutes she seemed to get everyone there (many of who had not met before) feeling like a tight knit family.  We were all packed in pretty tight and some how it didn't seem to matter and even enhanced the energy of the event.
I was lucky enough to get a front row spot, near the instructors and Jay Zek (on harmonium, drums, guitar and keyboard) and Bryan Gall (player of world flutes), two great musicians who played the throughout the whole practice.  If that wasn't enough, this event (which takes place at different locations) was set in a beautiful private residence with huge windows overlooking the South River at sunset.   Everything was by candlelight, and the entire event had the feel of a great party at a good friend's house.
After a challenging practice, we were all treated to an extended Shavasana (rest period) during which we had the option of having Reiki and Reflexology performed on us as we rested.  I opted for both and didn't regret it one bit.
After the Yoga part was over, dinner, drinks and desserts were served.   Everything I tried was delicious, but I think my favorite was the gluten-free lasagna made by Aimee's daughter.  People stayed into the night, old friends chatted and caught up and a number of new friends were made.
If you'd like to take part in the next Yoga Ecstatic event, Lara plans to host another one on December 10th at 6:30PM .  For more information on the Yoga Ecstatic, visit their Facebook page here.  The event is also listed on the Annapolis Yoga Calendar.
Since these are very popular events, advanced registration is strongly recommended.
---
Interested in more Annapolis Yoga events and free/discounted classes offered by local Yoga studios?
New

: Interested in meeting up and practicing Yoga with similar minded Yogis at different studios and locations (and receiving special group yoga discounts and perks)? Join the new Annapolis Yoga Meetup Group
Thanks and Namaste.