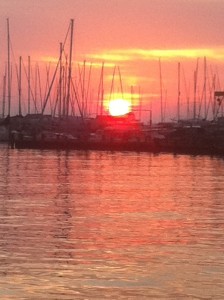 Here's the Annapolis Yoga update for this weekend….
FRIDAY
6pm-7pm Community ($6) Vinyasa Yoga (all-levels) at Evolutions
8pm-9pm Community ($6) Beginner Yoga at Charm City Yoga (Severna Park)
SATURDAY
SUNDAY
6:15-7:45pm Community ($6) Hot Yoga at Charm City Yoga (Severna Park)
MONDAY
6:00pm Yoga on the South River with Aimee Seal (donation based).  Enjoy a flowing 1 hour and fifteen minute yoga class tonight with the beautiful breezes blowing as the sun sets over south river. 411 Ferry Point Road, Annapolis.
6:15pm Community Yoga with Gretchen ($10) at Shakti Studio
SPECIALS
WORKSHOPS
Lucy has an amazing knowledge of yoga and the human body and teaches a really fun and personalized workshop. I'll never forget 
my first workshop with Lucy
.   Since then I've taken many classes with her and was lucky enough to apprentice with her as part of my teacher training.  She has been incredibly helpful in working with me to modify my form to help me recover from a number of past physical injuries.  Lucy can be contacted at: 
http://www.serenitybayyoga.com
Doga Yoga with Kater Leatherman and Sweet Potato.  October 27th, 11:30AM.    Doga Yoga will include some dog massage, incorporating the dog into the yoga poses and learning how to meditate with your dog.  It will be fun!For owners and their dogs (under 25 lbs). $20, portion benefits SPCA. Reserve space at 443-433-0462.
New: Receive this weekly update via e-mail by sending a message to updates@annapolisyoga.me