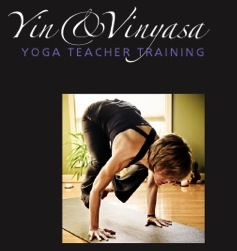 Wanted to pass along the following YTT information from Tina Lanzoni at Ying Yang Yoga….
[Editor's note: I've known Tina for several years, but have just started to take her Yin/Yang classes on a regular basis and can't recommend her highly enough as an instructor.   She is a wonderfully caring, knowledgable and very experienced teacher's teacher.   On a personal note, Tina has an amazingly calming and uplifting presence – both on and off the mat.  Barry]
Attached is the brochure for the upcoming Yoga Teacher Training next fall. Last year, I began to break the program up into 2 sections. I will be doing it the same this year, except the Ayurveda section will be offered with the Anatomy and Yin.  I also thought I would take a moment to be a bit more descriptive in my email, as it seems there a lot of questions with the new format/training that I hope to answer in this email.
The YYTT 1 is a 100 course which is part of the 200 hour hour training/certification. The 100 hour is open to anyone, it is a very comprehensive course,that was handed down to me from my teacher Paul Grilley. It is his teachings on anatomy and provides the student with a very in-depth knowledge of the human body and how it moves. It is a great class for people who are already certified in yoga or any other fitness related modality.In addition to the anatomy taught in the first 100 hours, you will also learn the practice of yin yoga, how to teach yin as well as an introductory course in Ayurveda. Because the training is offered in both a 100 hour and 200 hour option, I can only accept 10 people into the 100 hour course who are not planning on continuing into the 200 hour.
The 200 hour will go into the study of Vinyasa Yoga, the deeper dimensions of yoga such as pranayama (breath work), meditation and philosophy. Upon completion of the 200 hour, you may then send your certification to Yoga Alliance to become a 200 hour certified yoga instructor.
Registration for training will open tomorrow. The training will be held at Evolutions Annapolis. If interested, you can take the attached brochure and fill it out with a deposit. When I get the registration form, I will send you an application for the training. You can call me at 410-991-8386 if you have any questions, or Evolutions at 410-224-7220 to register. Additional information is available on Evolutions website at evolutionsannapolis.com. The application form can be downloaded from Evolutions website.
Please reach out if I can assists in any other way.
Love,
Tina
Tina Lanzoni E-RYT 500
www.yinyangyoga.org
Brochure can be downloaded by clicking on the following graphic…