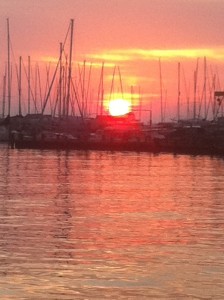 A lot of yoga events this weekend! In addition to the normal free and community yoga classes, there are a number of special events, including…
waterfront yoga w/live music and snacks
an Annapolis Yoga Meetup for a free Vinyasa class
a complimentary Yoga Rave at Lululemon
donation only hot yoga class at Prana
Here is what's going on this weekend…  (Additional details/links for each event at AnnapolisYogaCalendar.com)
FRIDAY
6pm-7pm Community ($6) Vinyasa Yoga (all-levels) at Evolutions
8pm-9pm Community ($6) Beginner Yoga at Charm City Yoga (Severna Park)
SATURDAY
9am-10am Lululemon In-store yoga with Meg Fredricks from Sid Yoga
9:30am – 11am Yoga on the South River yoga class + celebration with live music meditation by flutist Bryan Gall and homemade raw foods provided by HER nourishment.
9pm-10:30pm Lululemon Rave Event (complimentary) – Join Lululemon, September 8 at 9PM for Rave Yoga – a complimentary event complete with black lights, glow sticks, and amazing music. Sweat to the beat with a rave-inspired vinyasa yoga class led by Prana Studio's own Jackie Melsopp. The event lasts from 9-10:30PM, but you might want to arrive early (around 8:45PM) to set up your mat.
SUNDAY
8am – 9:30am Donation Only Hot Yoga Event – African Yoga Project – at Prana
9:15am – 11:00am Free Level Vinyasa Class at Golden Heart Yoga (with canned food donation) /Annapolis Yoga Meetup – Meet up for a free level II Vinyasa yoga class this Sunday the 9th at 9:30AM at Golden Heart Yoga in Annapolis. Class is free with the donation of non-perishable food items which will be shared with the Anne Arundel County Food Bank / Lighthouse Shelter.  Be sure to Register / RSVP at http://Meetup.com/AnnapolisYoga so we'll know to expect you. See you on the mat!
Upcoming  events on AnnapolisYogaCalendar.com…
Capon Springs Healing Waters Yoga Retreat (9/27 – 9/30)
A Fall Retreat in the glorious West Virginia Mountains with Sue Schmitt and Chris Kelley. Capon Springs is a healing mineral spring resort with charming appeal. This retreat offers 6 inspiring yoga sessions (which include yoga nidra) for all levels and abilities. The yoga is held in the beautiful new spa wellness room overlooking the property. There is free time to enjoy a hike, body work, mineral baths, or any number of extras, making it a nice weekend get away only 2.5 hours from Annapolis/DC area.
Complimentary Reiki Basics Class @ Shakti Studio (9/13 at 7:30pm)
Reiki Basics Class with Pat Clark of Annapolis Reiki. This is a complimentary class for those interested in knowing the what, who, where, when and why of Reiki.
Reiki is a Japanese method of stress reduction that helps promote a deep sense of relaxation and well being. Many find that it also reduces pain and provides a powerful yet gentle form of healing.
More info on the above events are at AnnapolisYogaCalendar.com