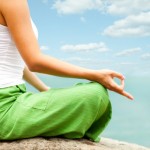 Two different workshops tomorrow for stress and anxiety.   One at Shakti Studio, the other at Evolutions Body Clinic.  This weekend on Saturday there is a Yoga & Your Thyroid workshop at Joy Reigns Church in Edgewater and an  Ayurveda workshop Sunday at Shakti Studio.
Here are the details (from AnnapolisYogaCalendar.com)….
1. Yoga for Anxiety @ Shakti Studio
Date: Thursday, April 19, 2012
Start Time: 6:30 pm   End Time: 8:00 pm
Anxiety is normal and needed but not all the time. We will learn about the nervous system and it's role in bringing homeostasis back to our mind and body using yoga's many beneficial practices. Must pre-register even if dropping in $90.00 6 week series; $15.00 drop-in.
Contact: Sue Schmitt
Email: susha.schmitt@gmail.com
Phone: 4107578272
More Info: http://www.shaktistudiomd.com
2. Yoga for Stress Relief @ Evolutions Body Clinic
Date: Thursday, April 19, 2012
Start Time: 6:00 pm   End Time: 7:15 pm
Today's fast-paced and pressure-full lifestyle effects all of us to varying degrees. More than any other exercise for or alternative modality, yoga is uniquely qualified to reduce stress and promote well-being. In this 75-minute workshop, we will explore poses, breathing exercises and visualizations that are known to activate the parasympathetic nervous system, allowing for relaxation throughout the body and mind.Taught by a Yoga Therapist with equal passion for the body and the mind, this workshop will give you tools to help you find more balance in your life, both on and off the mat.
$90 for six session workshop.
More Info: http://www.evolutionsannapolis.com/yoga-for-stress-relief/

3. Yoga & Your Thyroid @ Joy Reigns Church (Edgewater)
Date: Saturday, April 21, 2012
Start Time: 9:00 am   End Time: 12:00 pm
Please join us on this wonderful morning of education and inspiration where we will feed our bodies, mind and spirits. Teresa Giordano of Power of Fitness will be providing a delicious, power-packed breakfast, Sharon New of Local Food Beat will be teaching on thyroid health, and Lara Bontempo of Feeling Good Studios will be leading us through a 5th Chakra yoga class designed to help heal the endocrine system.
Contact: Sharon New
Email: sharon@localfoodbeat.com
Phone: 410.206.9343
More Info: http://localfoodbeat.com/?page_id=602
4. Ayurveda 101: Know your Dosha @ Shakti Studio
Date: Sunday, April 22, 2012
Start Time: 1:00 pm   End Time: 4:00 pm
In this workshop we will explore the 3 Dosha's (Vata, Pitta, Kapha) ~ what they are, why it's important to know, and how to use a simple tool to find out what yours is and how to use the information to enhance your well-being. Really fun class. Must pre-register $35.00 / $40.00 at the door. Enjoy Ayurvedic tea and snack after workshop.
Phone: 4107578272
More Info: http://www.shaktistudio.com
---
Annapolis Yoga Studios: Submit your discounted community yoga classes or workshops to AnnapolisYogaCalendar.com here.
Interested in more Annapolis Yoga events, specials and free/discounted classes offered by local Yoga studios?
New: Interested in meeting up and practicing Yoga with similar minded Yogis at different studios and locations (and receiving special group yoga discounts and perks)? Join the new Annapolis Yoga Meetup Group