Thanks to Lucy Lomax for letting me know about the following yoga instructor software!   Just created an account and in less than 15 minutes created the following all-levels class plan – very cool.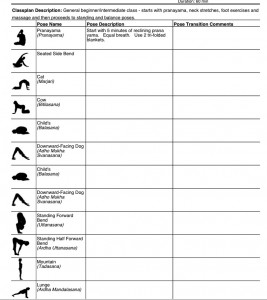 The software is all drag and drop and very easy to use.   Had all the poses I wanted to include with the exception of the foot massage that I like to do in the beginning of class.   They had a link to request new poses which said that poses are added within a week – hopefully they'll be able to add it – even though it's not really a pose.
Another nice feature was shared access to over 750 existing class plans from instructors around the country.  Plans can be printed as is or copied and modified.
Thanks Lucy – couldn't have come at a better time, since I'm designing three new classes for the summer!
—————-
Here's the link to their web site in case you are interested in trying.