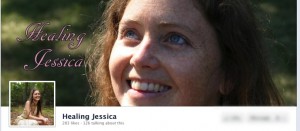 Lifelong Annapolis resident Jessica Earle Richter was recently diagnosed with stage IV glioblastoma brain cancer. She is a gift to this community; recently married, she's a photographer, a dancer, an advocate for healing and she needs your help now.
Please visit www.HealingJessica.blogspot.com to see her story and donate now.
Becky will be holding a live yoga event, this weekend – Sundary April 22nd, 6PM at Ridgely Retreat.  There will also be a silent auction with loads of items including certificates for healing and wellness services, local arts, crafts and fair trade jewelry. 100% of all donations go directly to Jessica to assist with her medical expenses.
Here is the link for the event:
http://www.facebook.com/events/117161421749837/
You can also contact Becky Roemer at 410-562-7449,  beckir@gmail.com to donate auction items or volunteer organizational efforts.