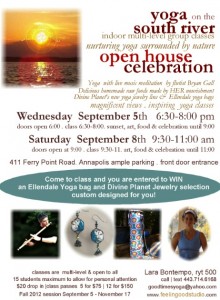 Wanted to pass the following along from Lara Bontempo…
Enjoy a 60 minute inspiring yoga class and 30 minute extended meditation and nurturing hands on relaxation taught by Interdisciplinary Yoga Teacher Lara Bontempo. Take time to connect with nature and yourself in this beautiful home with a magnificent view of the South River. Open to all. Multi-Level Class. Props Provided.
Fall Session: September 5- November 17, 2012.  Session begins this week, Wednesday 9/5 6:30-8pm & Saturday 9/8 9:30-11am.
At these classes we are surrounding the class with special elements…
Live music with flutist Bryan Gall, http://www.myspace.com/bryangall ~ during extended 30 minute relaxation and meditation concluding the 90 minute class
following class HER Nourishment (Cynthia Dawn) will provide yummy raw foods
art for sale by Divine Planet Jewlery (Marghi Barnes) and Ellendale Yoga Bags (Lois Villemaire & Judy Matour)
…the splendor of 411 Ferry Point Road's magnificent views.
Address: 411 Ferry Point Road Annapolis 21403
Doors open 30 minutes prior to class and close 60 minutes after.
Wednesday 9/5 6-9pm and Saturday 9/8 9a-12noon
Class is limited to 15 persons . reservations suggested but not necessary
Cost: $20 drop in or class pass purchase at first class
Class Pass: 5 classes $75 or 12 classes for $150
Class Passes are good for entire season 9/5-11/17 . transferable to family + good for both Saturday or Wednesday classes
Bonus – Register for the fall session and you will be entered to win a new yoga bag and a piece of jewelry from Divine Planet Jewelry! ($65 VALUE)
Register TODAY at goodtimesyoga@yahoo.com
Related links: