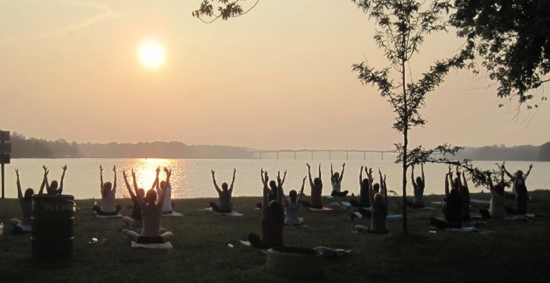 Just got back from one of the most fun and spontaneous yoga classes I've taken in quite some time – Sunset Yoga on the Severn with Christine Lilly of Annapolis Based Karma Yoga Adventures.
I got to class a little early and unrolled my mat in a scenic clearing about 50 feet from the Severn River.  Christine introduced herself and immediately made me feel welcome.   As each new student arrived, some regulars, some first timers, Christine took time to welcome them and introduce them to the group.    Before class started, I had a feeling that I was onto something special.   The view of the Severn was beautiful, Christine was a very gracious host and the event had the feel of a bunch of good friends getting together mid-week to practice yoga and enjoy the outdoors.
I chatted with Christine before class started and learned that this is her second year offering free sunset Yoga.   She has a loyal bunch of regulars, but also gets many new students each month and enjoys introducing newcomers to yoga.   Last year, she started by teaching to her friends – but word of her class has really spread and as many as 25 or more  students will show up sometimes.
Tonight, the weather was a little threatening (more on that later), so the class had a more intimate feel – with about 10 students.  The class was taught from both a physical and spiritual level, beginning with a nice centering with breath work , then building through a number of nicely sequenced warmup poses before progressing to a well-paced vinyasa class.  Christine emphasized the importance of going at one's own pace, gave excellent guidance on proper alignment and kept the class upbeat and enjoyable.
About half way through the class, it started to drizzle.   Christine told everyone to feel free to pack up, but as long as some of us were up for it she'd continue.  Then about two minutes later,  it really got interesting.   The skies opened up and the drizzle became a torrential downpour.   A few students packed up, but most stayed.   As we all got drenched, everyone started laughing and continued practicing.   Christine mentioned that she hadn't done Yoga in the rain before, but you couldn't tell from her teaching  – she didn't skip a beat and really incorporated what was going on all around us into the practice.   The mats started looking more like slip-and-slides than yoga mats and Christine chose her poses carefully and stressed the importance of mindfully performing each pose with respect for our bodies and the conditions that the weather was throwing at us.
For me it was a thoroughly enjoyable practice and one I'll never forget.   As it became difficult to keep from sliding on the mat, I moved onto the bare earth (and mud) for the standing poses.   My personal favorite was doing tree pose, literally rooting my feet into the wet soil and trying my best not to topple over in the windy conditions!
If you are interested in coming to one of Christine's free classes, here are the details…
Sunset Yoga on the Severn with Christine Lilly of KAYA Karma Yoga Adventures.
Tuesdays, 7-8PM at the beach at Jonas Green Park, Annapolis (right next to the Naval Academy Bridge).
More information is on Christine's Facebook page as well as on AnnapolisYogaCalendar.com